Our local guide to Nailsworth
"What is this life if, full of care, we have no time to stand and stare?" – these are the opening lines of the world-famous poem Leisure by W H Davies, written in 1911 while he was living in a small cottage in Watledge.
Today, Nailsworth has changed a great deal since Davies' time, but there is still much to stand and stare at in the buzzy town centre, home to many independent businesses, selling everything from artisan bread, meat and fish to stationery, books and handmade jewellery.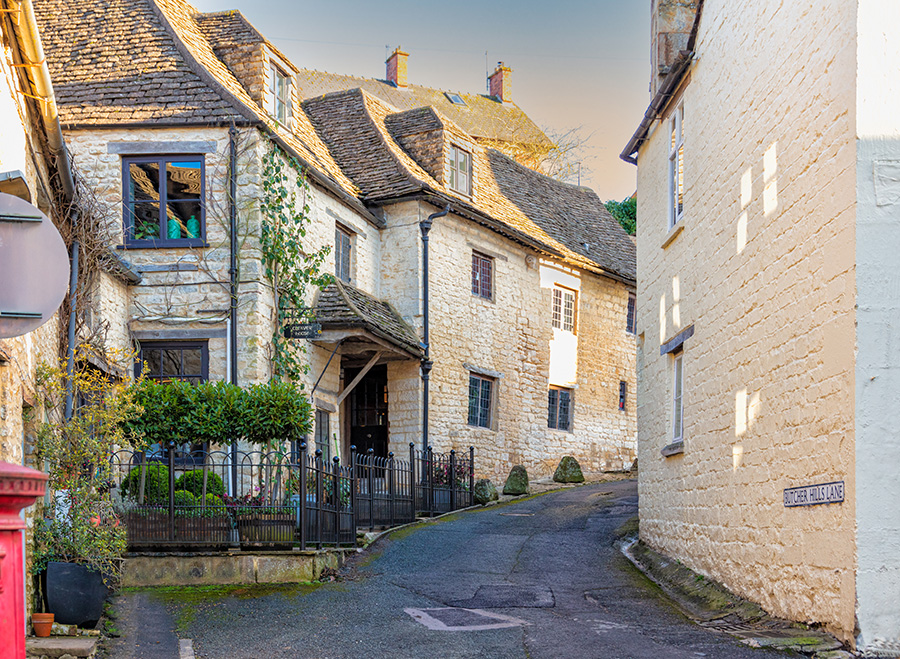 Nestling at the bottom of steep wooded hills, Nailsworth today is an attractive and vibrant shopping destination that punches well above its weight as a town of about 6,000 people. It draws in visitors from across the country, with a large selection of interesting speciality shops and cafes, including the famous Williams Food Hall and Hobbs House Bakery, owned by the 'Fabulous Baker Boys' of TV fame. Many of the shops and cafes put great emphasis on using local and organic produce and the town even has its own Natural Cookery School.
It is a quirky and friendly town with a good selection of restaurants, as well as three supermarkets and a regular farmers' market – still announced by a town crier!
Nailsworth offers rich pickings for those interested in industrial heritage, with its old mills and historic buildings. The waterwheels of Nailsworth are its best kept secret – you may be surprised to learn we are renowned as the 'waterwheel capital', as Nailsworth has the most working water wheels per square mile in England. There is even a
Waterwheel Trail for those who fancy exploring further.
Ruskin Mill is a fine example of one of Nailsworth's mills – and is now a popular centre for artistic activities and education, with a café, organic water gardens and trout farm.
Meanwhile, you can combine admiring a water wheel with a welcome drink if you stop off at the 16th century Egypt Mill hotel and restaurant – where a fairytale bridge over the stream leads to a lovely waterside terrace and mill house garden. The hotel also sits on the old railway line, now an eight-mile flat cycle path that winds its way through stunning scenery to Stonehouse.
Like so much of the Stroud Valleys, the town is a magnet for potters, painters, writers and all sorts of creative folk. Check out Three Storeys, a creative working hub in the heart of Nailsworth, with studios, a gallery and café. And don't forget to grab tickets for our annual Nailsworth Festival, which offers a full programme of art and music
events.
Sports fans are proud of the town's long association with the professional Forest Green Rovers Football Club, which competes in EFL League One and brings a real buzz to the streets on match days. Forest Green is famous for being the only vegan football club in the world and has an organic pitch that recycles rainwater for irrigation.
Nailsworth is well positioned for both town and country. Climb the steep 'W' hill out of town and you find yourself on acres of stunning National Trust common land, home to a prestigious golf course. The town is also on the doorstep of beautiful Woodchester Park, with miles of woodland walks and secluded lakes.
Famed for its independent spirit, it's not hard to see why the town has been named as one of the top 101 best places to live in Britain by the Sunday Times.

Factfile
Food and shopping: the town has a large range of independent restaurants, boutiques and galleries and we're proud of our free parking.
Churches: there are two churches in the town itself, as well as a Quaker Meeting House.
Schools: the town has a primary school and the independent and 'progressive' Acorn School.
Links: just four miles from Stroud, with its more comprehensive shopping, educational and leisure facilities and a railway station to London.
Local tips...
"I love walking around the lakes at Woodchester Park and then popping into Nailsworth for coffee and cake at Hobbs. There's a great buzz here, whether it's day or night."