Our local guide to Tetbury & Avening
Tetbury's fame extends far beyond its size as a small Cotswold town thanks to its most famous residents – King Charles and Camilla, Queen Consort, who live outside the town at Highgrove.
Charles first arrived at Highgrove – just around the corner from little sister Anne at Gatcombe Park – in 1980 and made it the family home. He transformed the garden into a stunning attraction, open for guided tours, and in 2008 opened the Highgrove shop in the centre of Tetbury.
Of course, we know there is much more to Tetbury than its royal connections. It is the second largest town in the Cotswolds and its lovely streets are lined with boutiques, antique shops, art galleries, cafes and great places to eat.
The town sits in an area of outstanding natural beauty and is known as an architectural gem because many of the fine wool merchants' houses in the centre still look as they did years ago. The town's importance to the wool trade is marked every year by crazy competitors running up the 1 in 4 Gumstool Hill carrying a 27kg sack of wool in the historic Tetbury Woolsack Races.
One of the most picturesque streets can be found at Chipping Steps with its pleasing jumble of old weavers' cottages. The town also has a fine 17th century pillared market house and a church with a spire that can be seen for miles around.
Tetbury may be rooted in the past, but it also has a vibrant and modern feel with a great range of independent shops, selling everything from books to jewellery and homewares, which bring people in from a wide area. It came as no surprise to us that Homes and Antiques magazine named Long Street as one of the UK's top 10 favourite streets for
shopping in 2018.
Pick up some fresh bread from Hobbs House Bakery or enjoy a cooked breakfast at Café 53 then head over to Westonbirt Arboretum for a lovely walk among the trees. Or if you fancy a spot of history visit Tetbury Police Museum or the nearby Elizabethan manor house at Chavenage, used as a location in Poldark.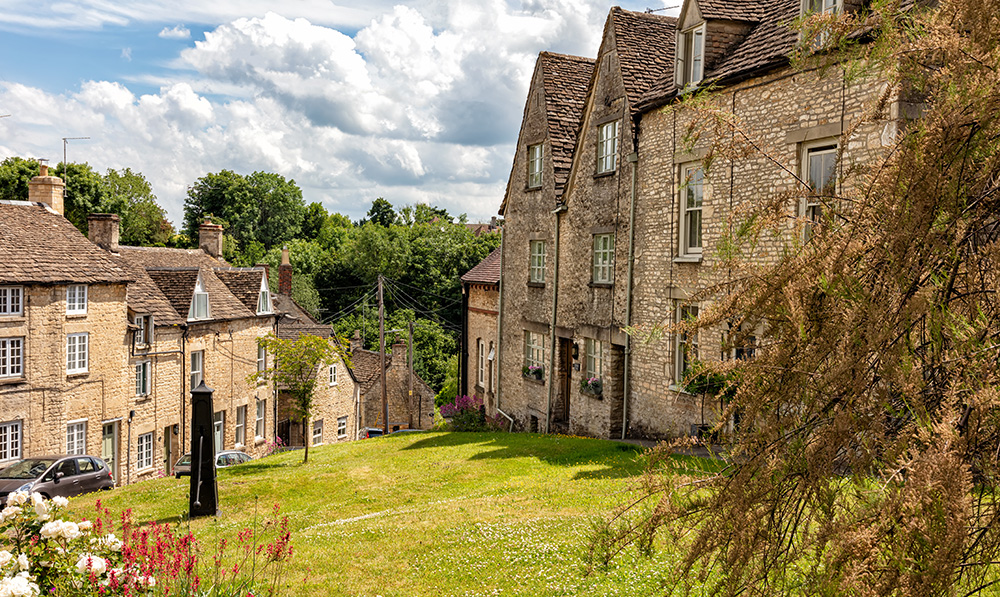 Later on, check out the Tetbury Goods Shed arts centre in a converted Victorian railway building, which hosts live music, theatre and cinema. There is also an annual music festival.
One fact which often puzzles the tourists is why there are dolphins on the town's crest when Tetbury is so far from the sea – the story goes that a member of a leading local family had his life saved in the Irish Sea by two dolphins!
Less than four miles down the road in a wooded valley is
the pretty Cotswold village of Avening. With a population of over 1,000, it is the largest village in the South Cotswolds and has a lively and active community, with a thriving primary school and playgroup, village hall, social club and playing field.
Queen Matilda was the smallest Queen of England (barely more than four feet tall), and was the wife of William the Conqueror. Legend has it that Matilda commissioned the village church in 1080 to ease her guilt over having thrown her unrequited love, the Saxon Lord of Avening, into prison.
When the church was finished, the Queen gave a feast of a pig's head to the builders. Villagers still meet and re-enact the Avening Feast – known by locals as Pig Face Day, as a pig's head is paraded into church!
The village borders the Princess Royal's estate at Gatcombe Park and is also close to 600 acres of National Trust common land at Minchinhampton.
Factfile
Food and shopping: The four main streets of Tetbury are lined with independent shops, cafes, pubs, restaurants and art galleries. The town also has two supermarkets; Avening has a pub, the Bell Inn. The Weighbridge Inn is just outside the village.
Schools: Tetbury has a primary and a secondary school (Sir William Romney's); there is an independent school for girls in Westonbirt; Avening has a primary school.
Churches: Tetbury has a number of churches; Avening has a parish church.
Links: more comprehensive amenities can be found in the nearby towns of Stroud and Nailsworth and railway stations at Stroud and Kemble provide main line services to London.
Local tips...
"I love to get lost among Tetbury's antique shops, stop for coffee and cake at Café 53 then finish at the Royal Oak for a nice glass of red and one of the incredible Sunday roasts – what could be better?"